Welcome to the Bridgetown Regional Sports Hub
The Bridgetown Regional Outdoor Sports Hub located at 30 Faye Road in the community of Bridgetown, Annapolis County is multi-use track and field, soccer, tennis and Pickle ball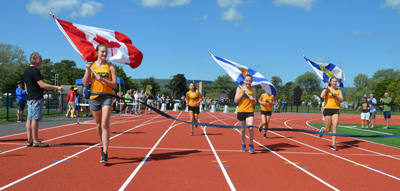 facility. Also boasting a Memorial Park with a unique chimney built for the endangered Chimney Swifts that migrate to the area yearly. The park will also soon include three new interpretive signs and a new digital sign. They will feature information about the endangered Chimney Swifts, the local community of Bridgetown and the former high school that once stood on the site.
The hub was officially opened by Annapolis County Council and the former Premiere of Nova Scotia, Stephen McNeil in September of 2020. A municipal, provincial, federal and community project that now makes the County of Annapolis a prime recreational, sport training and event hosting facility, not to mention a beautiful recreational facility for all residents to use! The community involvement was a key part in making this facility a success. A local advisory committee and the Annapolis County Athletics organization were with us during the development and supports us today as we move forward using the facility.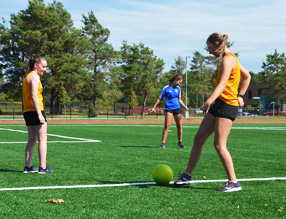 Located on the site of the former Bridgetown Regional High School this parks has it all! An 8 lane running track, a synthetic official sized soccer field, a natural turf junior soccer field, tennis and pickle ball courts, triple and long jump runways and a steeplechase water jump.
Active Transportation is also a key part of this new facility! There are pathways that link users and athletes from the parking area, local school and sidewalks to the Sport Hub Amenities. They also act as valuable links for students to be dropped off and walk to school safely.
The Sports Hub is open daily to the public from 8:00am to 8:00pm, unless there is an official booking from a club or organization. Please check out our "Make a Booking" tab to view the calendar for the amenity you are looking for.
Active transportation includes walking, cycling and other modes of self-propelled transport. It is a great way to increase physical activity and improve health for all ages. It enhances neighborhoods and contributes to healthy and thriving communities.
We welcome everyone to this amazing facility that Annapolis County has to offer. Stay Active and Healthy.